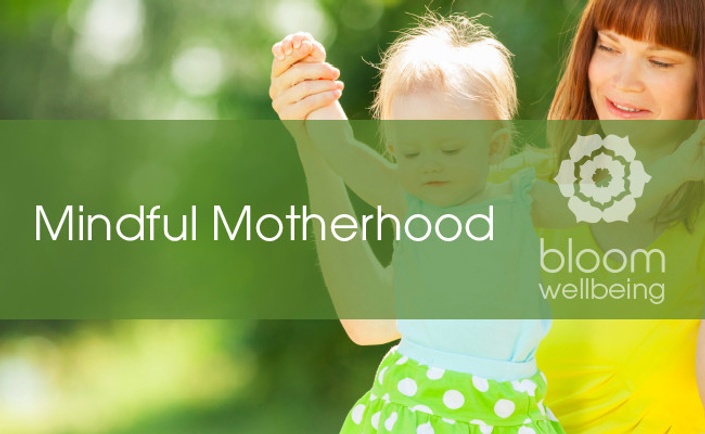 Mindful Motherhood
Your guide to moving past stress, overwhelm and guilt during the early months and years of motherhood.
Becoming a mother was supposed to be the most joyous time of your life...
And while there certainly is joy, there is also...
Exhaustion. Overwhelm. Confusion. Stress.
Second guessing every parenting decision you make.
Doubting your abilities as a mother.
Desperately waiting for hubby to get home so you can hand over the baby and escape outside for just a few precious minutes of 'me time'.
Feeling like you're completely failing at juggling motherhood and work or the running your own business.
Wondering exactly when you might start to feel like the "old you" again - if at all?
Any of this sound familiar?
You're not alone. These are the type of thoughts that frequently run through the head of many new mothers.
Because being a new Mum can be a tough gig!
There's a whole range of emotional, social and financial challenges to face. And it's a rare Mum who can simply take it all in her stride!

Current statistics tell us that one in seven new mothers will experience postnatal depression, with a similar number being diagnosed with postnatal anxiety. Countless more will struggle from stress, overwhelm and uncertainty about their role as a mother.
Most of us want, and need, support and advice to help us adjust to this new chapter in our lives.
Which is why I created Mindful Motherhood, an online program designed to give you the tools you need to experience motherhood in a calmer, more meaningful and less stressed fashion.
At Bloom Wellbeing we believe in supporting all new Mums in those first precious months and years with their new baby.
Having worked as a paediatric Occupational Therapist in schools, child care centres and kindergartens, I've seen first hand how the wellbeing of children is dramatically influenced by the wellbeing of their parents. I truly believe that the best way to support the wellbeing of our future generations is by supporting their mothers. Which is why I now focus my business on working with mothers. I see Mums as the tuning forks of a family - they set the tone for the whole home. If Mum is well, then the flow on benefits to babies, children, partners and the broader community are enormous.
Unfortunately, in our modern society, many mothers are often left feeling, isolated, unsupported, confused, and completely and utterly overwhelmed. Far from a lack of knowledge, today's mothers are dealing with information overload - everywhere they turn there's conflicting advice being thrown at them from their own mothers, mothers in law, Mums groups, the internet, facebook groups. The onslaught is endless and it's affecting our wellbeing.
This program has been designed for Mums to obtain factual, supportive information and education in easily accessible, bite sized chunks.
Most importantly it's designed to empower women to tune into their own intuition and to make their own decisions around what is best for themselves and their families.
I truly believe there's no "one size fits all" approach to parenthood. There's as many different ways of being a wonderful parent as their are parents in this world.
The trouble is so many of us are so disconnected from our own strengths and values, that we let ourselves be influenced by the many voices around us when it comes to our parenting decisions. Our own parents, our health care providers, the media, all those parenting experts on the front cover of glossy books. They all claim to know what's best for your child.
But do they really? How often have you followed someone else's advice, perhaps ignoring that little gut feeling you have that knows it's not the right thing for you or your family - only to have it all fall apart?
And what about you? What about Mum? We also need to remember that making the best choices for baby is about making the best choices for you. So often the books don't take that into consideration.
Which is why I created Mindful Motherhood - a program to support mothers to better understand their own needs as a mother, to develop and implement strategies to support their own wellbeing - both for their own benefit, and that of their families. The goal of Mindful Motherhood is to also understand how our own style of motherhood will be influenced by their own personality, strengths and values,
What's involved in the Mindful Motherhood online program?
Mindful Motherhood is a five week program designed for mothers to support their own emotional wellbeing.
Each week includes a 30 minute live webinar and downloadable course content on a range of topics related to emotional wellbeing, including:

Effective stress management strategies for new mothers
How to implement mindfulness in everyday life
"Mummy Guilt" - why it's an epidemic and how not to get caught up in it
Eliminating overwhelm on a practical and emotional management level
Statistics, signs and symptoms of postnatal depression and anxiety
What to look out for - how to identify "red flags"
Treatment options for postnatal depression and anxiety
Understanding "attachment theory" and how it impacts the mother-child relationship
Discovering and being confident in your own style of motherhood
Understanding and recognising birth trauma
What about Dad? Where does he fit? How does he bond with baby? How can you nurture your relationship with him?
The importance of sleep - how to get 'better' sleep, when you can't get 'more' sleep
Building rest and restorative practices into the busy day of a Mum
The importance of 'Me Time'
Mummy Myths and Mummy Wars - how to spot them, and how not to get drawn into them
Course participants will also receive a weekly email every Monday, introducing the week's content, plus a daily "mindful moment" email each Tuesday to Friday for the five weeks of the course - this email will be a daily dose of positivity straight to your inbox - including mindfulness quotes, hints and tips, and short mindfulness activities to undertake.
But what else?
At Bloom Wellbeing we understand that while information and education is great, what is truly invaluable is connection. Connection with other women who are going through the same journey as you are. Which is why we build connection into this program.
Everyone who signs up for the program will have access to our private Facebook group - the Meaningful Motherhood Tribe.
Email and FB message access to myself (Sarah!) to clarify information from the course.
Lifetime access - yes, once you've purchased this program you will have lifetime access to the content for as long as this course runs. Which means you will be able to return to the information at any time you need it, including when the time comes to have your second (or third or fourth!) baby.
Upgrade for 1:1 coaching support - Be quick - limited to five places
As an Occupational Therapist, I have more than 15 years experience supporting people to manage and improve their daily lives and mental health and wellbeing. My method of one-to-one coaching support for emotional wellbeing is based on the mindfulness and values based approach of Acceptance and Commitment Therapy (ACT). I have seen time and time again the benefit of one to one support for mental health. Like any area of our life, our mental wellbeing can improve with coaching.
This one-to-one upgrade package includes three x one hour Skype consultations in Weeks 1, 3 and 5 of the program.
Week 1: Values identification and individualised goal setting for the program
Week 3: Identification of unhelpful thinking styles and strategies to get "unhooked" from our negative stories
Week 5: Review of activities undertaken so far and extension of mindfulness practices.
Each Skype consultation will also include a recording of the consultation and a follow up email outlining the major points and action steps to be undertaken from the session.
Please note that because of the additional time requirements, the one to one coaching upgrade is limited to only five places for this program. So be quick to secure your place.
Who is this program for?
This program has been designed for mothers of babies, toddlers and young children. It is particularly for mothers who feel the struggle of parenthood, who find themselves at times overwhelmed by their responsibility, and who want to support their own emotional wellbeing through this challenging time. Please feel free to contact Sarah on 0432 420 846 with any queries.
When does the program start?
Dates for the next round of Mindful Motherhood have not yet been released. If you would like to be placed on our waiting list for the next round, please email your details to [email protected]

Your Instructor
Sarah is a women's health occupational therapist and director of Bloom Wellbeing, a female-focused Occupational Therapy clinic based in Adelaide, South Australia.
With more than 20 years experience as an OT, Sarah has chosen to specialise in the emerging field of women's health OT as she is passionate about supporting women to adjust to the physical and emotional demands of motherhood.
Sarah is also the author of Piper Gets Her Period, a book about menstruation, specifically written for girls with autism. If you're in Australia you can order a copy here, you can also puchase an e-book copy from anywhere in the world here.

Course Curriculum
Module 1: Introduction
Available in days
days after you enroll
Module 2: The Struggle Is Real - But we're going to drop it anyway...
Available in days
days after you enroll
Module 3: The Mind-Body Connection
Available in days
days after you enroll
Frequently Asked Questions
When does the course start?
This five week course runs live, starting on Monday, May 8, 2017.
How long do I have access to the course?
How does lifetime access sound? After enrolling, you have unlimited access to this course for as long as you like - across any and all devices you own.
What if I am unhappy with the course?
We would never want you to be unhappy! If you are unsatisfied with your purchase, contact us in the first 30 days and we will give you a full refund.
This course is closed for enrollment.